Windows Are Vital To Survival, But Keep Safety in Mind
Learn How Falls Can Be Prevented
According the Safe Kids Worldwide 2015 Report to the Nation: Protecting Children in Your Home, about eight children under age 5 die each year from falling out a window, and more than 3,300 are injured seriously enough to go to the hospital.
The National Security Council, along with window and door industry professionals and other safety advocated, formed the Window Safety Task Force in 1997 to educate caregivers about window safety.
The Task Force offers these suggestions to help protect children:
Always supervise children and keep their play area away from windows

Keep windows closed and locked when children are present

If windows are open, make sure children can't reach them

For a double-hung window on an upper floor, open the top sash for ventilation and keep the bottom sash closed

Screens keep bugs out, but they do not keep children in

Keep furniture away from windows as they could temp a curious child to climb and protetially fall

Don't allow children to jump on beds or other furniture

If there are young children in the home, install ASTM-approved limited-opening hardware, which only allows a window to open a few inches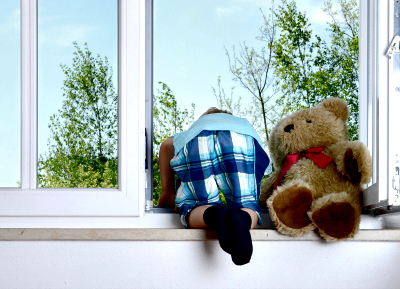 Window Cords Can Cause Strangulation
About one child per month dies from window cord strangulation, according to the U.S. Consumer Product Safety Commission. Another will be treated following a near strangulation.
Parents and caregivers are urged to check their window coverings for exposed or dangling cords, and every year in October, the Window Covering Safety Council and CPSC sponsor National Window Covering Safety Month to remind caregivers of the risks.
Safety experts recommend only cordless window coverings or those with inaccessible cords be used in homes with young children. If you can't replace your window coverings with today's safer products, free retrofit kits are available through the Window Covering Safety Council.
Windows rank as one of the Top 5 Hidden Hazards in the Home, according to the CPSC.
Windows Save Lives
Since its inception, the Window Safety Task Force has distributed thousands of information kits with tips for preventing falls and using windows as emergency escape routes. These efforts seek to decrease residential fire deaths.
According to most residential building codes, bedroom and other sleeping areas must have a secondary means of escape in case of fire or smoke, and that exit is often a window. Just having windows designated for escape is not enough, they also must be safe and accessible.
Local Anchorage window professionals GSL PAINTING LLC can help you replace your old and possibly unsafe windows with new windows that are approved by the CPSC.