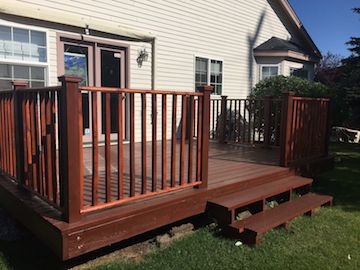 Home Tips: Deck or Porch Maintenance
Q: New decks look great. What should Alaska homeowners do to keep them looking that way?
A: All wood, especially exterior wood, needs care and maintenance. Protecting your deck from water, moisture and ultraviolet rays will prolong its life.
Q: There are so many exterior deck care products on the market. What should a homeowner look for when picking the best product for the job?
A: The first step in selecting the right coating for your deck or porch is to consider the age and condition of the wood. For newer wood, clear and toned products can prolong the life of your deck without covering up the beauty of the wood's grain. Waterborne semi-transparent and solid stains are great choices for older woods since they provide the maximum protection and can help conceal surface imperfections or marks.
Q: How long can a homeowner expect these protective finishes to last?
A: Coatings used on horizontal applications like decks naturally have a shorter life span than coatings applied to vertical surfaces. Horizontal surfaces get more direct exposure to sunlight, and moisture from rain, snow and ice. These surfaces also take a beating from foot traffic. When selecting a finishing product, take the time to read the manufacturer's label to see if the coating has the protective qualities your deck needs. In general, clear finishes do not offer UV protection and do not last as long as pigmented-toned clears or semi-transparent stains.
Q: Should homeowners look for oil- or water-based products?
A: Products designed for exterior wood decks and porches provide a range of characteristics. Whether you select a product that is oil- or water-based is a matter or personal preference. Water-based products offer quick, soap-and-water clean up while oil-based finishes require solvents. On the other hand, oil-based coatings offer excellent results with just one coat, while water-based finishes usually need two coats.
Q: What deck cleaning products should you use?
A: Similar to selecting the finishing coat for the wood, the type of cleaning product you need will depend on the condition of the wood. Your local Anchorage painting professionals, GSL PAINTING LLC can help you clean, repair and protect your decks. Get the conversation started and make sure your deck job is done right by contacting GSL Painting LLC by phone 907.205.0590 or use our Contact Us Page today!