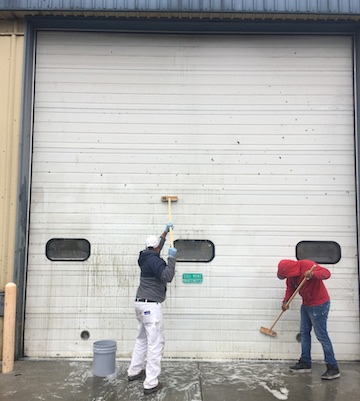 4 Benefits Of Pressure Washing
The exterior of your home takes a beating from the harsh elements and weather everyday causing paint to chip, and dirt and grime to accumulate. Over the course of a year, you may really notice a dulling of your paints exterior due to this. That is why it is recommended to pressure wash you exterior every year to keep your home looking fresh and clean.
A good pressure washing is crucial when you want to update the exterior paint on your home, deck or fence. This is because the wash helps remove dirt, mildew and broken down paint residues that keeps fresh coats of paint and stain from adhering to your exterior surface. Further, pressure washing has some other great benefits to keep in mind.
#1 - Improves Curb Appeal
Every spring, Anchorage homeowners spend tons of time working on updating their landscaping and decorations, and cleaning your home's exterior siding/brick and fencing should be no exception to the update. Having your paint or stain look new and clean adds to the overall look and feel, and is especially important when it comes time to sell your home. A fresh looking paint job, free of peeling/chipping could be the difference between a sale or not for some prospective buyers.
#2 - Increases Your Home's Value
According to Consumer Reports, a good pressure washing along with needed paint touchups and siding/brick replacements can help increase the value of your home by as much as 2-5%. These updates are crucial when it comes time to sell your home.
#3 - Preventive Maintenance For Your Home
Regularly scheduled pressure washings will prevent grime and mildew from breaking down your home's exterior, causing you to worry less about having to replace rotted wood, chipped paint, and premature aging of your home. A good pressure washing before you paint will also help your new paint job last much longer than if you painted over dirty siding or brick.
#4 - Protects Against Harmful Bacteria
Your home's exterior surfaces accumulate dirt, grime, mildew and other bacteria that are wise to avoid, as some can be harmful to us. Having a pressure washing done yearly helps ensure that you are removing these contaminants, keeping you and your pets safe from getting sick.
Did you know you can pressure wash more than just your home's exterior?
Pressure washing works great on:
Fencing
Garage Doors
Outdoor Grills
Driveways & Walkways
Patios & Decks
Outdoor Furniture
Decorative Signs & Statues
While you can rent or purchase your own pressure washer, keep in mind that it is quite expensive, time consuming and in some case dangerous if you aren't familiar with how to work one. Dangers include using too much pressure or the wrong nozzle causing wrecked surfaces, broken windows and injuries to others or yourself.
That's why we highly recommend you hire a professional like GSL PAINTING LLC of Alaska for your pressure washing and painting needs! We offer FREE estimated on all jobs. Schedule yours by phone 907.205.0590 or on our contact us page today!